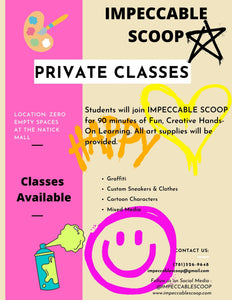 Students will join IMPECCABLE SCOOP for 90 minutes of Fun, Creative Hands-On Learning. All art supplies will be provided.
During Private Lesson students will be able create at their own pace and ask any questions. 
PLEASE E-MAIL TO CONFIRM DATE & TIME AFTER CHECKOUT
Price is for 1 student. Capacity is 12 students per class.
Please e-mail any questions or special requirements.